ONLY THOSE WHO REACH FOR THE STARS
WILL ACHIEVE A NEW DIMENSION.
It is well known that the ability to produce economically and reliably with excellent precision requires a trained and motivated team together with an array of well-equipped and efficient machines.
The continuing growing number of satisfied customers who depend on the reliability and quality of star* CNC automatic lathes combined with our comprehensive range of services are both a confirmation and incentive.
We are looking forward to your requirements.
star* CNC automatic lathes delivered in Europe
INNOVATION IS OUR STRENGTH
Nearly 10,000 star* CNC automatic lathes delivered in Europe are the proof that quality and reliability has always been the company philosophy of STAR Micronics and that customers trust in our company. We offer you a comprehensive range of star* CNC automatic lathes – from simple lathes up to the highly complex machining of long turned parts.
Our machines are in operation at customers seven days a week round the clock – often under enormous pressure regarding costs and schedule. The economic and successful production of parts therefore depends on the efficiency and reliability of our machines. Other important points to consider are aspects such as safety for operators and machines, improved workplace ergonomics and quality assurance for every work step and finally an environmentally-friendly production process. star* CNC automatic lathes are adapted to your company requirements and set up according to the wishes of the customer. We support individual customers with the optimisation of machines and production-related applications.
---
TAKING RESPONSIBILITY FOR PEOPLE AND THE ENVIRONMENT
In co-operation with partners, we fine-tune tools, accessories, replacement and wear parts exactly to the various application areas of star* CNC automatic lathes. In the selection of our partners, we set the same standards as we set for ourselves, i.e. top quality, quick and flexible delivery and excellent customer service.
Our obligation is to constantly offer the best service to promote the success of our customers. This is because right from the start you can expect the highest quality, extreme precision and reliability, together with excellent service, from STAR Micronics. Any time right from start.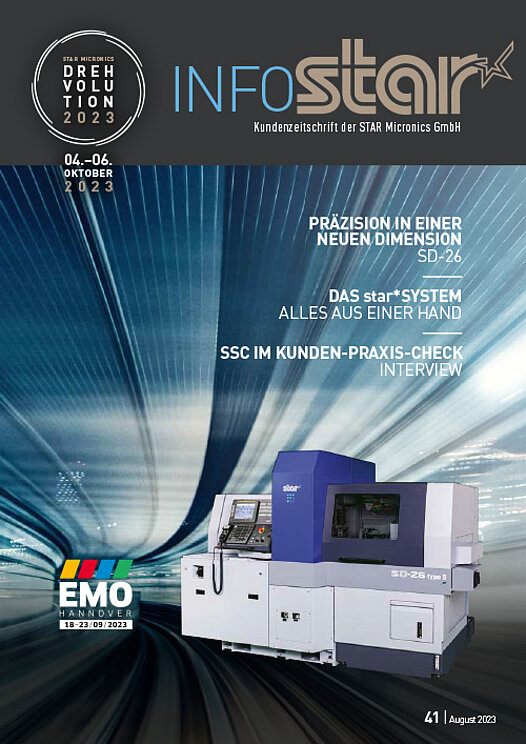 Infostar
Customer magazine
With articles on new products, projects, success stories and much more, in our annual customer magazine you can inform yourself about exciting news from the star* company. We wish you lots of reading fun.
The little you can do is a lot when you somehow relieve a being of pain and fear, whether this be a human or a creature. The preservation of life is the only way to happiness.
Albert Schweitzer (1875 – 1965)
Social responsibility and commitment are naturally a part of our company philosophy. In this process, STAR Micronics especially feels obliged to help the weakest. For this reason, STAR Micronics GmbH has for many years provided support for the following regional and national organisations and institutions::
Donation account Mercy Ships Deutschland e.V.
Kreis-und Stadtsparkasse Kaufbeuren, IBAN: DE58 7345 0000 0000 5244 47, BIC: BYLADEM1KFB
Donation account Ärzte ohne Grenzen e.V.
Bank für Sozialwirtschaft, IBAN: DE72 3702 0500 0009 7097 00, BIC: BFSWDE33XXX
Donation account Sterneninsel e.V.
Volksbank Pforzheim, IBAN: DE 41 6669 0000 0010 0007 18, BIC: VBPFDE66
Donation account SOS-Kinderdörfer weltweit
GLS Gemeinschaftsbank, IBAN: DE81 4306 0967 2222 2000 05, BIC: GENODEM1GLS